June 2019

Glimmer of Hope for Buyers?
Inventory came up ever-so-slightly in both Northern Virginia and DC in late May and now into June, giving just a touch of breathing room to buyers who have been frustrated with bidding wars and waived contingencies.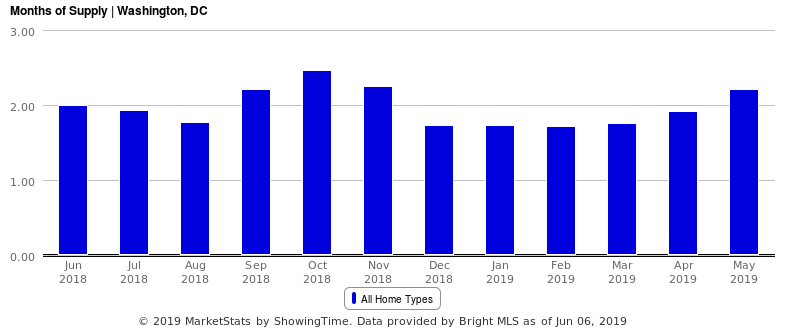 We're still seeing hot properties in entry level price ranges escalate well above list, though, and motivated buyers are doing pre-offer inspections and finding other ways to mitigate the risk that comes with waiving contingencies.
We're seeing the market cool a bit in the upper ranges of $1.2M+, where inventory is higher, and buyers with children finalize their moving plans for this summer to be settled well before the school year.
Our team is busier than usual this June as a result of buyers still on the hunt, having been competing for the past few months. If you're a buyer who's been sitting on the sidelines this Spring, this may be a good time to dip your toe in the water.
In other team news, a video interview with Katie was recently featured in ARLNow's Boring Title column. She spoke briefly about bidding wars and the risks that come with them. 
Check out the video here
, and contact us for more info!
In market news, rates continue to fall so this is a great time to refinance! There are costs to refinancing, but a good rule of thumb is that it's usually worthwhile if today's rates are 1% or more lower than your existing rate. 
Contact us
 if you want to talk to one of our excellent lender partners!
As always, thanks for your business and referrals — we're never too busy for your referrals!
______________________________________________________________________
        Wethman Group Client Appreciation Event:   Nats Game July 7th
Clients, you should have received your invite with link (or check our Facebook Perks page!) to RSVP for our annual Nats game July 7th. Seating is limited, so please RSVPsoon!
____________________________________________________________________________________________________________
Interest Rate Update
Rates have lowered in the past week and buyers are hoping they stay low through the summer.
30-Year Fixed Conventional 3.93%
5/1 ARM 3.87%
30-Year Jumbo 4.16%
Rates per Bankrate.com. Graph Freddie Mac, 30-Year Fixed Rate Mortgage Average in the United States [MORTGAGE30US], retrieved from FRED, Federal Reserve Bank of St. Louis; https://fred.stlouisfed.org/series/MORTGAGE30US, May 9, 2019.

WETHMAN GROUP LISTINGS
For Sale:
Coming Soon:
12154 Captiva Ct Reston, VA 20191
$325K/TBD
12811 Caldwell St Rockville, MD $280K
Under Contract/Sold:
545 E Braddock Rd APT 406 Alexandria, VA 22314 $425K
2707 Adams Mill Rd NW #408 Washington, DC $289K
HOME CARE CORNER:
Clean Those Gutters!
Keeping water away
from the house is one of the most important things you can do, and
clogged gutters are a common culprit when it comes to water in basements. Next time it rains, take a walk around your property and see where the water is flowing. Make sure it's coming out of the downspouts easily, and use downspout extenders (<$10 on Amazon or Home Depot) to divert the water at least several feet away from the foundation.
Ask us for a copy of our 
Maintenance Checklist
 for other items to inspect. Routine maintenance throughout the year helps avoid large expensive repairs or replacements down the road
_________________________________________________________________
CLIENT PERKS: CORN HOLE GAME!
Hosting a backyard BBQ? Borrow our regulation size cornhole game for free! Just email us to reserve.
Have something you'd like to see us add to our collection of client items available to borrow? Just email us!
We're happy to help with all your residential and commercial real estate needs throughout the DC metro area. Remember to 
Like us on Facebook 
for market updates and real estate tips!
We have a nationwide network of quality agents–let us know if you or someone you know needs a referral to another city.